Walking in the upper La Orotava Valley we passed a young German couple enjoying the route in the opposite direction. We said hello, or more accurately Buenas Tardes (when in Rome and all that) and carried on.
About an hour and a half later, and about thirty minutes walk from the end of the route, we were stopped in our tracks by somebody shouting at us. It was the young German couple. The girl came running through the forest to join us.
https://walkingtenerife.co.uk/
"Hi again, can you help us? Do you know the way to La Caldera?" She asked.
"Err, yes…I hope so anyway," I replied, I wasn't yet 100 percent convinced that we were definitely on the right track ourselves – there are a lot of intersecting paths in those woods. "But I thought you were going in the other direction?"
"We were," she laughed. "But the descent looked very dangerous, so we turned back. But now everything looks very different in this direction."
At that point her boyfriend/husband/pal joined us. He had a map in his hand. He looked at it, turned it on its side and looked at it again, then stared at the path ahead.
"We are wanting to go here," he pointed at a tent symbol on the map.
"Can I have a look?"
He handed me the map.
It was a good map of Tenerife for sure, one of the better ones I'd seen. It had the La Caldera zona recreativa marked on it, but it wasn't Ordnance Survey. Apart from the little tent to show there was a camping area at La Caldera, there weren't any paths shown through the woods; the scale was far too small. As a walking guide it was useless. A one way ticket to 'getting lostville'.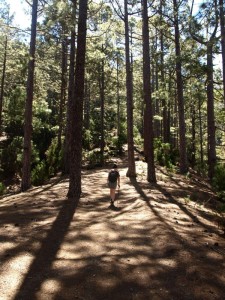 At the junction where we stood there were paths leading in four directions; none were signposted.
We pointed them in the right direction and they went off at a pace; they'd clearly had enough of their time traipsing around woods.
Tenerife is a fantastic place for walking, but even if you're an experienced walker, you do have to be prepared. Routes can start off with clear signposts pointing to wide tracks and then, when you're deep in the forest, the tracks and the forest floor can gradually blend into one another and signposts annoyingly go missing.
A standard map, even a relatively detailed one, just isn't a good enough tool for helping people find their way around the countryside, you need an Ordnace Survey map and/or clear, reliable directions.